Denny Munetsi: Gweru's Outstanding Community Member

Gweru, Zimbabwe. "Perseverance, honesty and dedication are the cornerstones to a better life, both for individuals and the nation at large."

These are words and beliefs that have catapulted acclaimed volunteer, Denny Munetsi, in the "City of Progress" to previously unfathomable heights in Community Restoration.

Born and bred in the Midlands capital 54 years ago, Denny has dedicated most of his adulthood towards the restoration of the country and city, in particular, to its glory days, when all was well.

"I am inspired by the community that nurtured me. Growing up in Gweru, we had all the necessary recreational facilities such as free education, public halls where we would go and play games and so forth hence; I feel that our children and grandchildren might miss such opportunities. These facilities enabled my generation to excel at school and therefore by being a volunteer, I am paying back to the community. Voluntary work is the best way of paying back as I want to see a change in society," he said.

To fulfil his dream and vision, Denny even moved from staying in a plush house in the suburbs to a modest one in the township of Mambo. He says this enables him to properly manage his expenses, therefore allowing him to devote all his time to voluntary community work.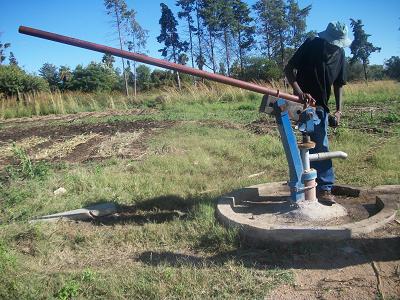 Above: Denny inspecting a borehole that he, with the assistance of other community members, had just repaired

Denny completed his secondary school education at Ascot Secondary School before progressing to Mutare Teachers College, where he attained a Certificate of Education. He also holds various qualifications attained from the Institute of Zimbabwe Insurance and a Bachelors Degree from the University of South Africa (UNISA).

He worked as a teacher, where he rose through the ranks, by merit, to become a Headmaster. After achieving the highest rank in a teaching environment, Denny decided to retire and pursue voluntary work as he strongly felt that employment hindered him from his true calling; Community Restoration work.

It is with this unrelenting commitment to community development and restoration that ZDDT found and chose to work with Denny in the implementation of its interventions in the City of Gweru a few years back. The Trust did not only find Denny to be resourceful but to possess undying love for his "home town" and its people.

He lives to see the improvement in their standards of living, an attribute and principle that also drives ZDDT. Denny is currently the Voluntary Community Liaison Officer for ZDDT in the Midlands province.

Ever since his association with ZDDT, Denny has continued to exhibit undying zeal to spearhead development, in all its forms, in Gweru. He has utilised his vast experience in both the professional and voluntary fields to effectively and efficiently implement the initiatives and interventions of the Trust.

ZDDT introduced a number of projects in the Midlands capital such as the Urban Greening Initiative, The Local authority Capacity Building Programme, Nutritional Gardens and Cleaning and Anti litter Campaigns. The Trust administers projects in 6 of the 18 wards in Gweru due to limited funding. However, this has not deterred Denny from establishing and nurturing a working relationship with the remaining wards.

Denny has organised the Gweru community and the Local Authority (LA) in a tree Planting exercise that has seen over 1 800 trees being planted up to date. The trees that were an endowment to the city by ZDDT were well received by the residents due to Denny's outstanding communication skills and dedication to assist the community nurture the trees.

He also does a sterling job of monitoring nutritional gardens around the urban centre. The gardens came at a time when the residents were in dire need of income generating projects to uplift their standards of living. Once again his unparalleled commitment and dedication can be seen at work here as he takes a lot of time assisting the beneficiaries, who are mostly the old aged and the HIV positive, in tilling the lands and nurturing the
crops.

Proceeds from some of the excelling gardens have even financed the education of orphans and underprivileged primary school pupils. The gardens touch the lives of over 3 000 residents in differing ways and degrees.

"When we commenced work in Gweru, there were a number of pupils who were being chased from schools, so we introduced gardens so that the children, together with their parents, can operate them and raise school fees. Now quite a number of these pupils are no longer being sent away for school fees because they can now afford to pay their fees.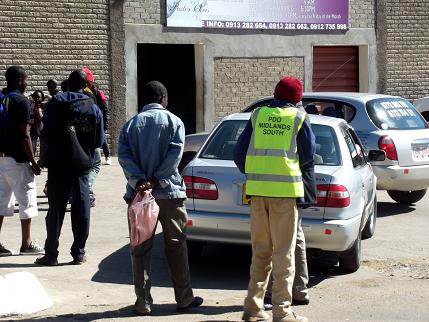 Denny distributing ZDDT anti-litter campaign fliers during the recent Midlands Agricultural Show

Furthermore, the clean-up campaigns have made Gweru look different. Normally town have clean-ups once in October but we as ZDDT in Gweru are conducting clean-ups on a more regular basis," said Denny emphatically

The LA has commended ZDDT's interventions and therefore Denny as he is the implementing agent in Gweru. They have cited such programmes as anti litter and cleaning campaigns as having gargantuan positive impact on the way people relate refuse with the outbreak of diseases that would otherwise be curbed by maintaining a clean and therefore healthy environment.

The Gweru City Council Health Director, Mr Christopher Ruwodo, welcomed the Trust's involvement, saying it capacitates the LA as it has not been spared by the economic hardships like any other institution in the country.

"They (interventions) are quite good, they are commendable. We are a City Council and we run services and affairs on behalf of the residents, but we can't do everything. Therefore we need help here and there, so that's were ZDDT comes in, in certain areas to assist us achieve our aims, which are a good, healthy environment for Gweru Residents. Their main aim and our main aim is the same, we are working on the same direction," he
said.

Gweru City Councillor for Ward 4, Cllr Kenneth Marekiwa Sithole also hailed ZDDT, saying it empowers Councillors and enhances communication between them and their constituents.

"I met ZDDT through GURA (Gweru Residents Association). I've taken GURA as a legal association and we have worked with them well under the ZDDT banner. That marked a milestone in my area, up to now people still talk about it. They have seen the work that was done, it might not be much but it's a milestone. My desire is to have such organisations as ZDDT in my area. It allows us to do what we are supposed to do as leaders," said Councillor Sithole.

Denny validated the grey hair in his head by wrapping up with words of wisdom to the youth; "They (the youth) must be honest, they must have some integrity, they must be truthful to themselves and at the same time, they must not aim to rip where they did not saw. They must take their time to do good because at the end of it all, they shall receive their reward," he said in conclusion.