"Community Before Self" – Polyana Mahlangu
Polyanna's father was a pastor at the London Missionary Society, which is now called the United Christian Congregation of Southern Africa.
When she was a child, a lot of villagers used to gather at her parents' home every Sunday after church, to receive food from her mother. These people would prepare the food and in the process the family would also benefit from the voluntary labour.
This taught her that, in the process of helping others, you are also helping yourself and that people living in the same community are one big family.
Grounded with these principles, Polyanna grew up to be an outstanding community servant, both through professional practice and voluntary commitment.
At the age of 21 (1947), Polyana travelled to South Africa, where she learnt her trade in Nursing at the Durban McCord Zulu Hospital.
She learnt for 4 years and then spent another year working there before returning back home to settle down.
In 1951, she joined Mpilo hospital, where she worked for all her active years in service. It was during this time that she married Pastor Mahlangu, with whom she has 4 children.
However, both work and marriage could not take Polyanna's mind off voluntary community work.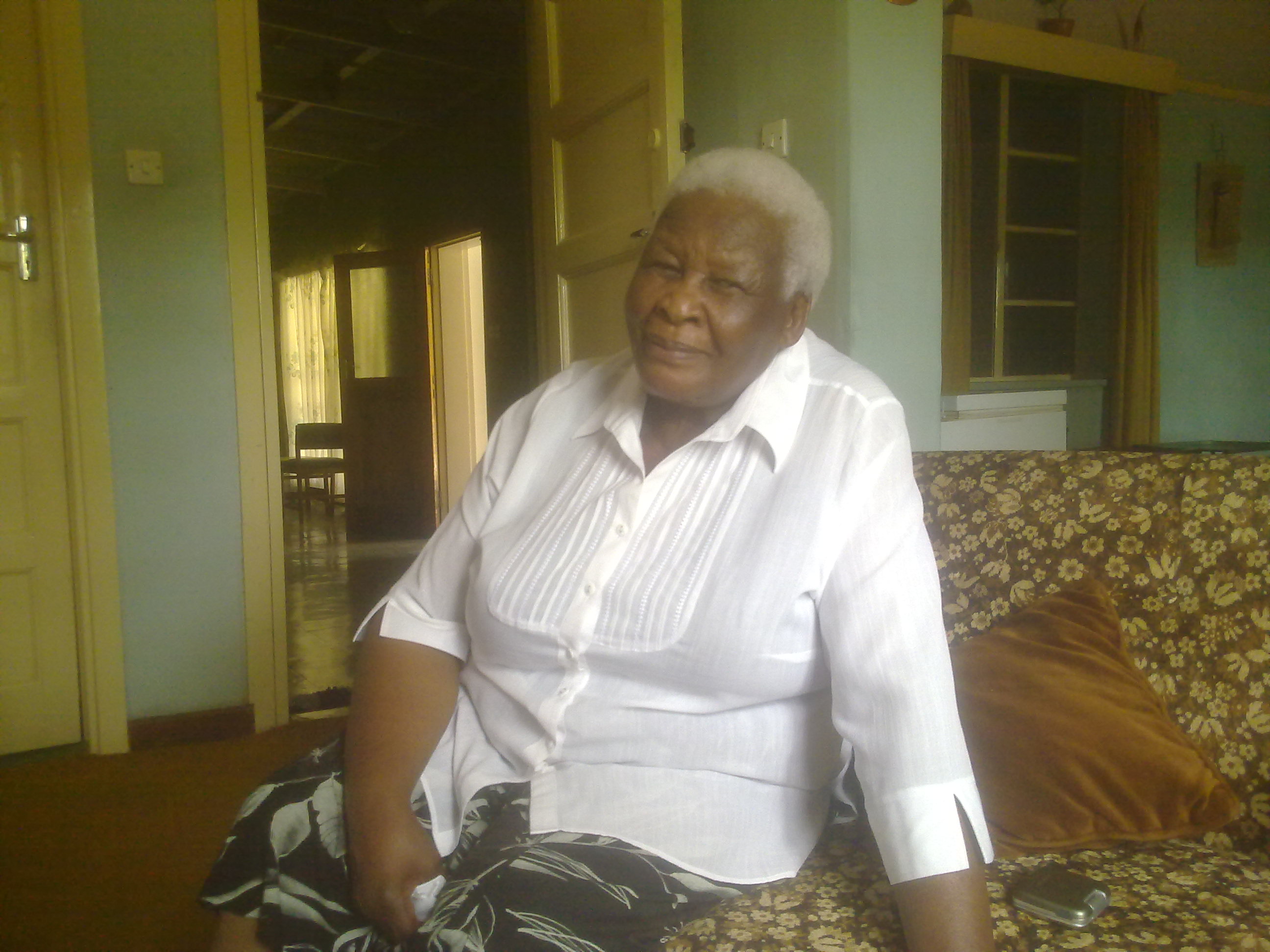 It is while she was working at Mpilo that she started collecting funds among fellow workmates to donate to Jairos Jiri Centre for people living with disabilities and also Thembiso Children's Home.
She coordinated this scheme for 2 years before "it died a natural death".
In the 1970's, Polyanna realised that a lot of elderly people were being discharged from hospital early, before they had fully recovered. This was done to pave way for more patients, as the health facilities were being overwhelmed.
This gave Polyanna countless sleepless nights and eventually she asked her workmates if they could look for a place where they could take turns to look after these elderly patients until they had fully recovered.
Many frowned upon the idea but a few identified with her suggestion and could relate to the problem.
"While working at Mpilo Hospital in the 1970's, I realised that there was a sudden influx of patients and the hospital could not house them all at any one given time. As a result, the elderly, who take much longer to heal, were being discharged before they could fully recover.
"This hurt me so much that I came up with the suggestion of looking for a home where we could keep them until they recover and are ready to go home. Two colleagues supported the idea but we did not know where to start," she said in a lengthy interview, at her modest home in Luveve.
Having come up with the concept, Polyanna concentrated all her energy and resources to making this "dream" a reality, hence she began promoting the idea to other people whom she thought had, either the know-how, or simply the drive and determination.
As a result, she brought on board a Methodist Church leader, Pastor Musa, the then Town Clerk, Mr M Ndubiwa, Mr N Mabhodongo, Mr and Mrs Khumalo and Mr Nkala to constitute a board.
She also sought the services of a Physician, Dr Rahman, who volunteered to conduct a survey that proved, beyond reasonable doubt, that there was indeed a need for such a home.
In a nutshell, that is how the haven for the ailing elderly was born, on the eve of the Zimbabwean Independence on 15 December, 1979.
Ever since then, Polyanna has not looked back. Instead she grew from strength to strength in establishing and administering the Ekuphumuleni Convalescent Home.
She emphasises that the home is not an attempt to break family bonds, but rather it is there to strengthen them by according the elderly a place where they can rest while they recover and at the same time affording the families some time to adapt to their old people's needs.
"I would like to make it clear that Ekuphumuleni is not an old people's home where the elderly are dumped or where they are left for good, by their families. It is a convalescent home whereby we offer support to families by taking care of their elderly for up to 3 months at any given time and then they can return to their families when they are feeling better.
The centre caters for senior citizens who are at list 60 years old.
"We are saying that families can leave their elderly with us for short periods while they conduct other family duties that do not necessarily need the senior citizens," she said emphatically.
At age 88, Polyanna is still fighting for the aged, as she is appealing to well wishers to help Ekuphumuleni with a borehole that they will use at their Upper Nodweni plot to generate income and develop self-sustainability.
"As you, we depend on hand outs from the Ministry of Social Welfare and other well wishers. However we want to be self sustaining and therefore we applied for a plot in Mguza, near the airport. We were given the plot but now we cannot do anything on it as we do not have a water source. We are therefore appealing for a donation of a borehole so that we can start growing crops for resale," she said.
In a separate interview, the Home's Administrator, Mrs Sibonisiwe Khumalo said they are in dire need of an ambulance, as they often use an old truck to take the elderly patients to the hospital for medical attention.
"We would be very grateful if we could have an ambulance to ferry our patients to hospital. We currently use an old battered pickup truck that is also used for acquiring supplies and all the other operations," she said.
The Home currently has 73 patients who pay a monthly token of $55, which is used to cover operational costs.
However, many families cannot afford to pay this token and therefore their patients are in arrears and this incapacitates the Home from offering expected services well.
Government used to assist them with bed subsidies, which was being utilised to supplement the food and other necessities for the patients.
However, since July 2012, Government stopped providing this financial support due to the economic meltdown.
Government pays salaries of the nursing staff, who are also helped by interns attached to the Home.
Polyanna's community efforts and commitment are a true example of the spirit of "Sebenzela", which encourages unselfishness and one's commitment to the community before self.