A Happy New Year for Green Valley Garden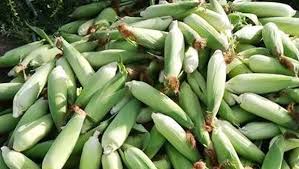 Year 2021 began on a high note for Green Valley Garden in Ward 21 in Sizinda township after it made promising sales from their green mealies which sold out like hot cakes in the community.
In a chat with this reporter, the commercial sector secretary, Doreen Ngara, said they have made USD 241 and ZAR 1040 within two weeks of selling green mealies.
"We started selling these mealies on 30 December 2020 and, on that day, we made USD 64 and ZAR 400. On 31 December 2020 we sold USD 85 and ZAR 400, on 7 January 2021 we sold USD 73 and ZAR 240. We still hope the remaining cobs are bought on time before they dry up.
"We are happy that we made so much money from just 1465 cobs and we are looking forward to making more sales by month end. With these profits, we want to buy commercial hose pipes before sharing the money amongst the commercial members," she said.
One of ZDDT's principle goals is to see communities become innovative with their entrepreneurship and sustain themselves through various self-help projects.