Geraldine Roche Drama Moves Programmes Online
Written by

Mollett Ndebele
As Corona Virus continues to wreak devastation and threaten careers and business, the show goes on! The second wave has forced most countries including Zimbabwe to go on second total lockdowns.
This has caused most businesses to shut down or cut down on some of their activities. Despite this, Geraldine Roche Drama (GRD) has moved on and is now calling for online registration for the GRD competitions for 2021.
It seems the organisers are not ready to let go of the momentum already established and, instead, they believe adapting to the new normal is the only way to go.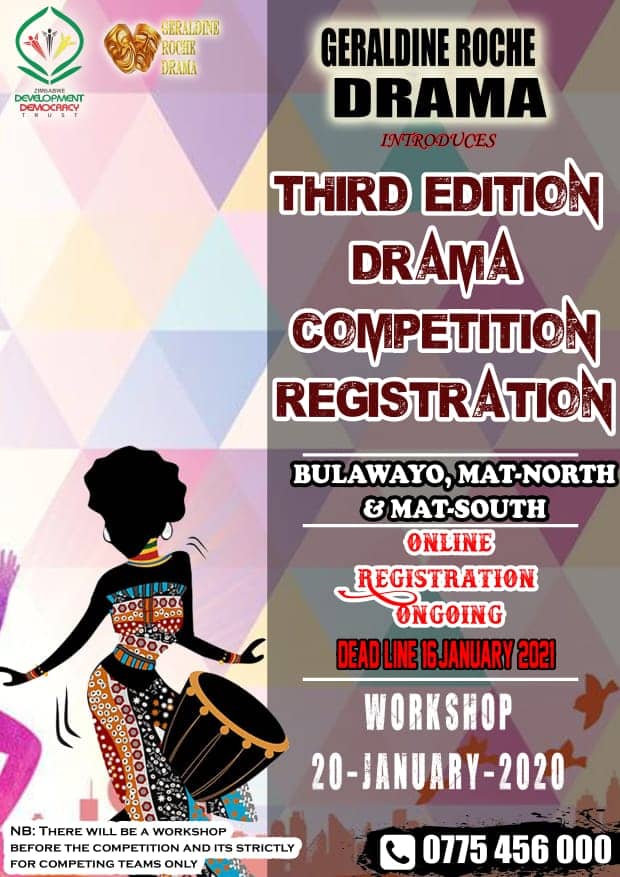 This year marks the third edition of GRD competitions and they are calling out for interested theatre groups from Bulawayo Metropolis, Matabeleland South and Matabeleland North to register online. Last year, GRD competition expanded from being a Bulawayo project to include the other two sister provinces of Matabeleland North and South.
GRD competitions are for community theatre groups and include now familiar names of Bambelela Arts Ensemble, Langelitsha Theatre Group, Jahunda Community Arts and many more battling for the top spot.
In an interview with this reporter, GRD programmes coordinator, Khaliphile Sibanda, said it is indeed a hard time but they are willing to take the challenge.
"After the online registration is complete GRD will host an online workshop for all the groups that will have registered. The workshop is aimed at equipping the groups with theatre skills and at the same time unpacking the expectations of the organisers. GRD competition rules will also be outlined.
"Covid 19 has not been gentle on the arts industry as the 2020 final competitions were streamed on Face Book. Due to Covid 19 regulations there was no audience but there was energy, the most important asset required by artists when performing. Theatre is not complete in the absence of a live audience. The performance triangle is lost as one turns to be performing for cameras. Those responses from the audience that signals the impact of the performance, or lack of it, are lost. Performances turn to sound like technical rehearsals, but one guesses we have to be used to the new age of conducting theatre shows," she said.
Khaliphile also took the opportunity to unpack a theatre project, Les Miserables, that GRD is working on. The original story is set in France. "We are going to be doing a rendition that suits African Society as well as Bulawayo Stage. This means altering some of the things that we don't have in Zimbabwe and those that our stages cannot handle. The cast is made of artists picked from different groups."
Geraldine Roche Drama and Sally Foundation prioritises providing education through the creative arts in Zimbabwe in an endeavour to generate skills and employment for youth and spread social messages.