Sizinda Value-Addition Cooking Graduates Hit the Ground Running
Written by

Mandla Tshuma, ZDDT Field Correspondent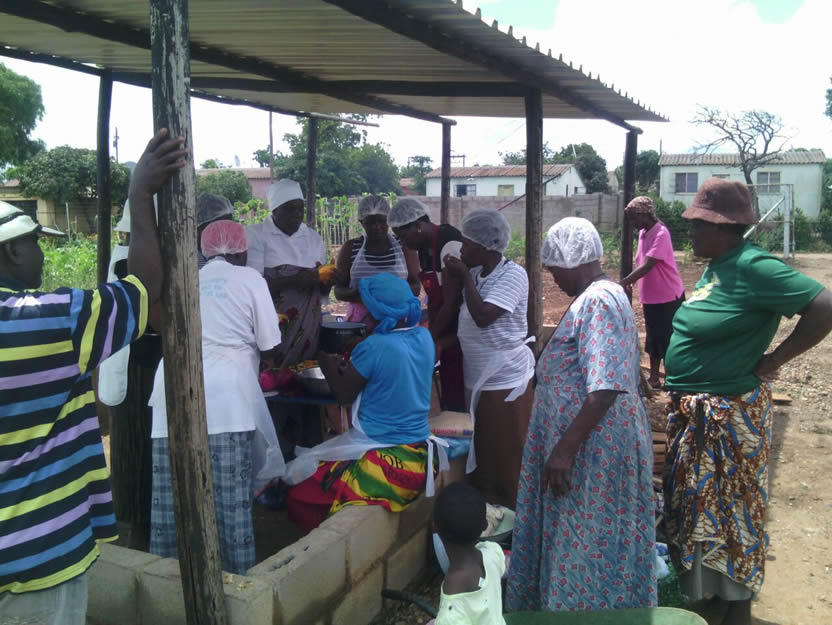 BULAWAYO – Graduates of the value-addition cooking programme, from Ward 21 at Sizinda Community Garden, have hit the ground running as they began training other community members just a day after they completed their own course at Entembeni Old People's Home.
The special five-week programme was a partnership between the Zimbabwe Development Democracy Trust (ZDDT) and Sally Foundation and their partners, GDG, aimed at adding value to the trust's various community gardens in the city.
The first session, which began on December 15, 2016 and was being held every Tuesday, saw a total of 16 Community Action Team (CAT) members drawn from Wards 15, 19, 21 and 27 undergo intensive training.
Ward 21 has been the first of the four wards to immediately pass on their newly found knowledge to other community members.
On Wednesday, February 8, the women kick-started the programme with training on making jam in which a total of 25 women and one man participated.
"We said now that we have been taught, we must not be greedy and we ran with speed, came here, organised ladies and also extended invitations to men as well who could be interested," said Judith Dube, one of the trainers.
"The trainees were so excited about this programme. Those who missed out on the first training have been phoning us making some enquiries, meaning to say the number is likely to even increase next Wednesday."
She said the lessons will be held every Wednesday at 1pm at the garden shelter for five consecutive weeks adding, once completed, they will invite ZDDT for a special lunch showcasing how the knowledge gained would have been passed on to other members of the community.