Star of Zim: Moses Dube, a Man Fond of Working for the Community
MPOPOMA - While many people may demand payment for community service, that is not the case with a Bulawayo man who has worked so unselfishly and tirelessly with the Zimbabwe Development Democracy Trust (ZDDT) for over a decade now.
Moses Dube, of Mpopoma, is the current chairperson of Ward 9 Community Action Team (CAT) who has never lost the passion for working for the community and has remained a determined and committed leader.
ZDDT recently caught up with Dube at his residence in Mpopoma to establish what inspires him to do what he is doing for his community.
The forever jovial and enthusiastic Dube recounted how he began working with ZDDT.
"I have worked with ZDDT for a long time and it is about almost 11 years now," Dube told ZDDT News.
"ZDDT started working here in Mpopoma during the days of Councillor Elmon Mpofu, who is now an alderman. At one of the Council meetings, Councillor Mpofu met with Mr. Spooner who introduced himself to him and ZDDT's intention to work with all the 29 wards of Bulawayo."
Dube said, after councilors had accepted to work with the trust in building the Bulawayo communities, Councillor Mpofu introduced the ZDDT programme at one of the residents' meetings and then asked for volunteers.
"I was one of the first 10 volunteers. We then went on to elect leaders among the 10 volunteers and I was elected chairman of that committee," explained Dube.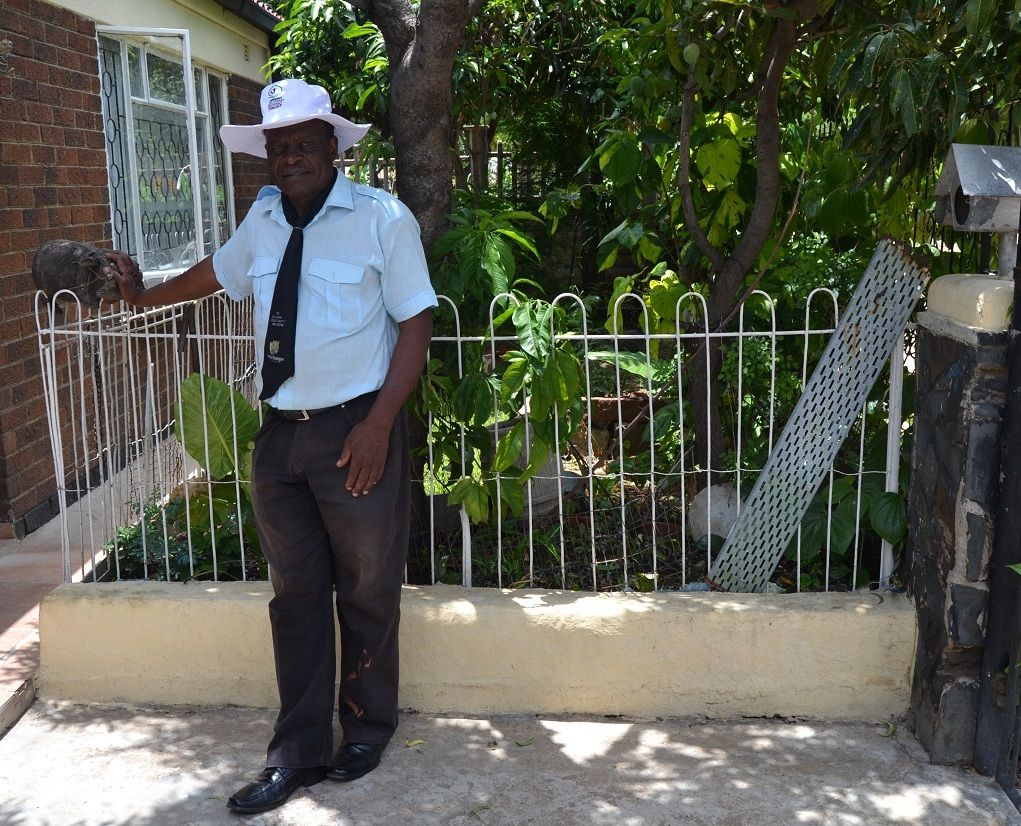 The projects they embarked on, Dube said, included potholes filling, clearing storm drains, grass cutting and tree planting and others.
Dube said: "Those programmes taught us that, as a community, we must live in a clean environment.
That is when the concept of clean-ups was strengthened. As time went by, we came together with Lobengula residents and did clean-ups there at designated areas. Lobengula residents also came to Mpopoma and joined us for clean-ups as well."
He explained that ZDDT gave them equipment that included wheel barrows, shovels, picks and other tools for use in community projects such as potholes refilling.
"We were given also gloves and beeps written: "Sebenzela iZimbabwe." (Work for Zimbabwe). In that way we worked together as a team," said Dube.
The community volunteer, par-excellence, said as CAT members, they became known by residents' associations and, whenever there were meetings, they would be given slots to make presentations on what they do in the community.
Between 2014 and early 2016, when ZDDT experienced funding challenges, Dube said that did not deter them from continuing with community work and this proved that the spirit of Sebenzela was now imbedded in the lives of residents.
"As a community volunteer, I have also volunteered to work with the Social Welfare as a Child Protection Committee member in which we deal with abused children, children without school fees, child headed families, children into drugs and alcohol and gender-based violence," said Dube.
The man has also worked with Mzingwane AIDS Network, World Vision as a behavior change facilitator under Mzilikazi District, Radio Dialogue and Bulawayo City Council in various community projects.
Born on April 12 in 1952 in Plumtree and grew up in Bulawayo, Dube is a recipient of several awards, including the ZDDT CAT Leader of the Year, in recognition of his outstanding community work.
In 2013 Dube was selected for the Newsday People's Choice Award and was the runner-up in the Infrastructure Development Category.
The accolade was in recognition of his role in fixing Bulawayo's potholes and clearing of drainage trenches.
Dube, a trained chef and retired employee of the National Railways of Zimbabwe (NRZ), said he attributed that award to his involvement with ZDDT.
Having worked at NRZ for 35 years, Dube started as a shop steward in the trade union.
"I represented my work mates the rest of my working under railways," said Dube.
"When the Zimbabwe Congress of Trade Unions had been formed, they requested for people who had been active in trade unionism. I wrote my detailed background since I joined NRZ in 1971 and sent it to Harare."
In 1985, Dube, a married man with three grown-up children and four grandchildren, got a three-month scholarship to go and study trade unionism in Berlin, Germany.
"My volunteerism therefore stemmed out of trade unionism. I have several trade unionism certificates," he added.
During his days at NRZ, Dube also successfully fought for employees to gain ownership of the houses.