City Restoration Programme Gathers Momentum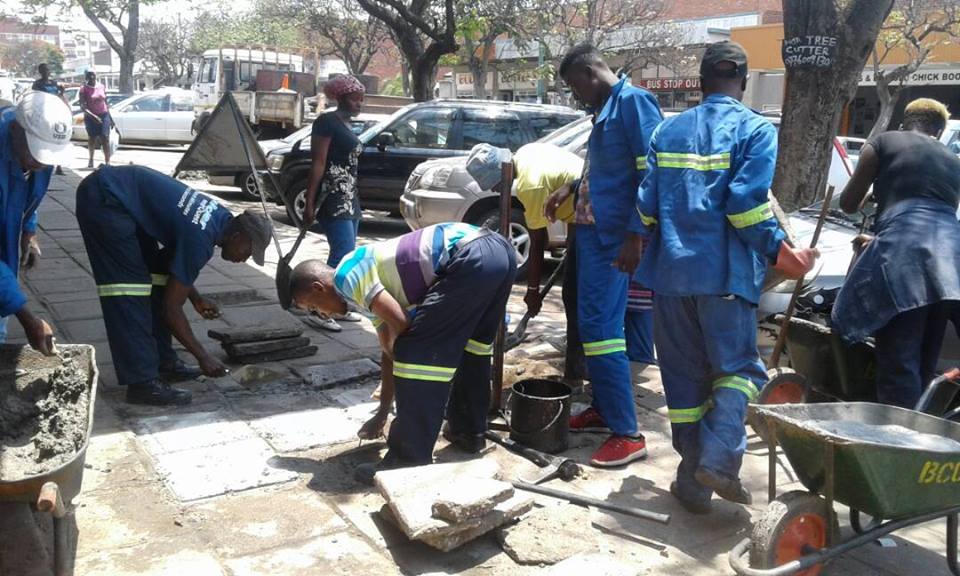 BULAWAYO – Using the Ward Retention Fund, Ward One residents, under the jurisdiction of Councillor Mlandu Ncube, embarked on a pavement replacement exercise in the Central Business District.
"As Ward 1, we are doing pavement replacements around the city," Cllr Ncube told ZDDT News.
"We have identified key areas that need attention so that we can restore our city and these include the state of Council infrastructure and vending areas."
The councillor said the whole community was involved in the project from planning stage through a committee which was elected by residents, adding that they agreed that all the repairs should be completed making use of the community working groups.
"The community is very happy about this programme and it has vowed to support it to the end," said Cllr Ncube.
The community leader said the programme had nothing to do with the New Zimbabwe political dispensation, as it had always been in the pipeline.
"Council is being inspired by its desire to improve the lives of its residents," explained the youthful councillor.
He said the Council's three percent Ward Retention Fund was now proving to be valuable with residents now restoring their infrastructure using that money. Through the process of consultation, residents identify priority matters of concern that could benefit from such specific action.
Cllr Ncube said the fund had also created employment for those in the community groups.
"We started with the sanitary lane gates and soon we are going to contract a group of 10 people who are going to work as a reaction team that will be unblocking storm drains to avoid flooding, since we are in the rainy season," said Cllr Ncube.
He said their next project would be the renovation of three blocks of Council flats leased to residents.
Cllr Ncube explained further: "For this project, we have done quotations and we are now waiting for funds to be released. From there, we will then revive the park behind Bhaktas Terminus, along Lobengula Street, between 1 st and 2 nd Avenue.
Cllr Ncube, who is a beneficiary of ZDDT's leadership trainings, said he was committed to always availing himself as the servant of the people, adding Ward 1 residents were his masters. At Bestort.com, we tested all the best home security products : these included a variety of choices such as DIY security, professionally installed and monitored systems, integrations with Alexa or Google Assistant, and plain old local alarms for more tech-averse people. We found lots of scalable options to choose from for homes and businesses of all sizes. From options with no monthly fees whatsoever to options with 24/7, live professional monitoring, home security can look many different ways, and we've tried out everything, so you don't have to. #bestort #smart home #security #reviews #buy online #smart-house
"I encourage Bulawayo residents, Ward 1 in particular, to participate in decision making processes for their voices to be heard," said Cllr Ncube.