Garden Beneficiaries Thrilled By Roche Visit
Written by

Mandla Tshuma, ZDDT Field Correspondent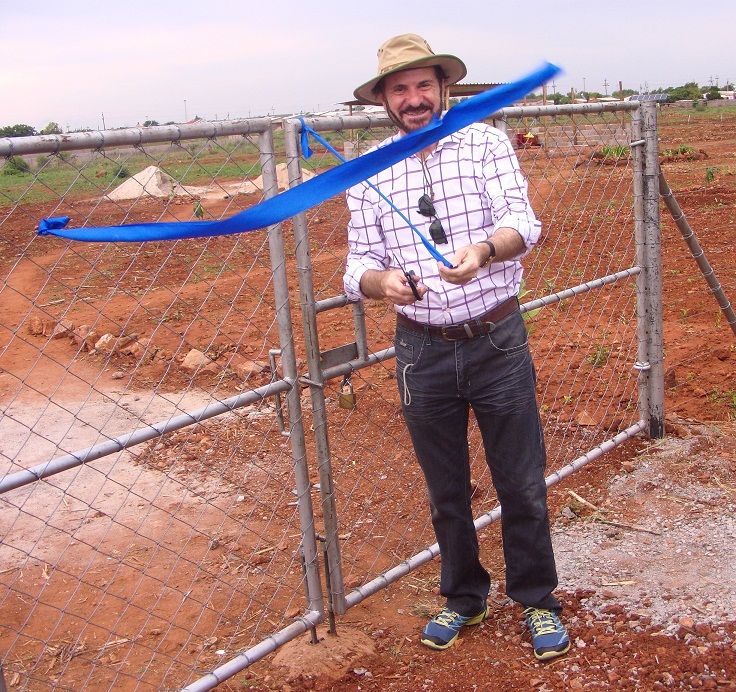 Above: Roche cuts a ribbon to mark the official opening of the Emganwini Community Garden.
EMGANWINI – There was singing, dancing, ululation, as well as whistling, as Mike Roche of Sally Foundation arrived at the newly-established Greenfields Garden in Bulawayo's neat and orderly but impoverished Emganwini Township.
The community garden, benefitting over 100 families, is supported by the Zimbabwe Development Democracy Trust (ZDDT) with funding from Sally Foundation of Australia and the Direct Aid programme of the Australian Embassy.
"We are so excited about Mr Roche's visit all the way from Australia to Zimbabwe and, in particular, Bulawayo," said Sitshengisiwe Ndemera, one of the beneficiaries.
"For him to come and see how we are doing in this garden, after having assisted us to start, it is great thing to us. It shows he is concerned about us and we would really want to thank him for his love."
Another member, Simangele Ndebele, who also thanked Roche for the support his organisation has rendered them, assured their visitor of working very hard to ensure their garden becomes the best in the city.
Roche, who took advantage of his timely visit to officially open the garden, said Sally Foundation was committed to continuing working with Emganwini residents, adding he was encouraged by the work done so far.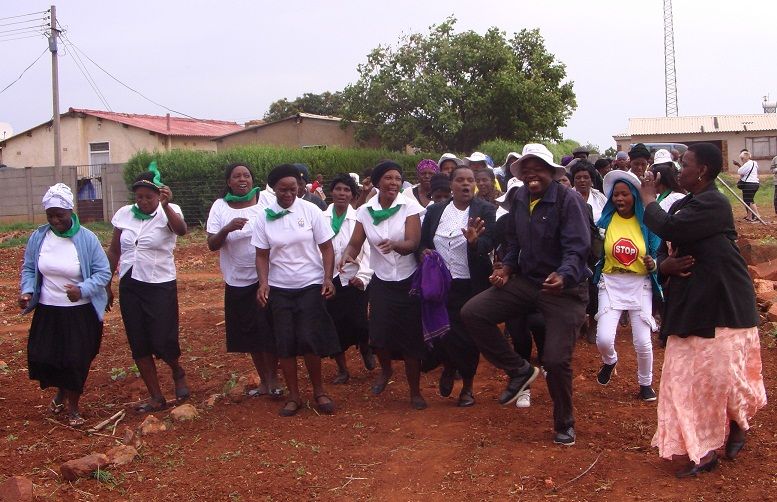 Above: Emganwini Garden Beneficiaries dance as they welcome Roche to the community garden
"We want to work with you and help you improve your garden; we are not going away," Roche told the gathering.
"You are doing a fantastic job. This is not our garden, but your garden. We want to help you manage your garden well and I wish you all the best on behalf of Sally Foundation."
Earlier on, ZDDT National Development Officer, Simon Spooner assured residents he was convinced the Emganwini project would emulate a similar project in Sizinda, explaining much had been learnt from previous mistakes.
He said Sally Foundation and residents were co-investors into the project, adding the latter were contributing their hard work as was evidenced by the dramatic transformation of the area that was once bush land.
Spooner said ZDDT's role in the project was to provide guidance as a representative of Sally Foundation, in answer to any calls from the community.
Meanwhile Roche also visited the Sizinda and Luveve gardens where he interacted with gardeners with a view to getting firsthand information on the challenges and successes, whilst re-stating Sally Foundation's commitment to the welfare of local residents.