Joy for a "Value Addition" Cooking Participant
Written by

Mandla Tshuma, ZDDT Field Correspondent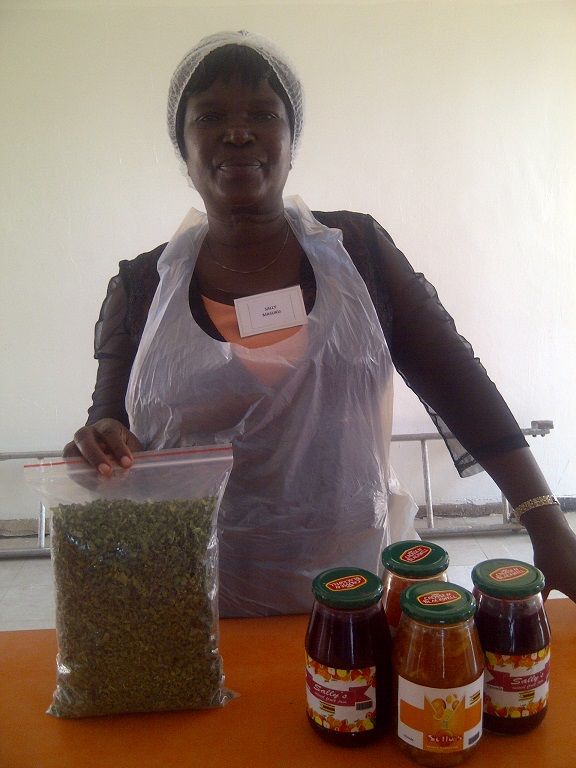 Bulawayo - Sally Masuku, of Bulawayo's Old Pumula township, a value addition cooking programme participant, is over the moon after clinching a deal to supply her products to a local college.
In the picture, Masuku displays some of the products she has been trained to produce.
The cooking programme, a partnership between ZDDT and GDG/Sally Foundation, aims at adding value to the trust's various community gardens in the city.
Under the programme, participants are trained to make products such as tomato sauce, pickles, pickled beetroot and onion, sweet and sour cucumber pickles, fruit chutney, mixed pickles and many other related products. In addition, jams are produced, fruit and vegetables dried and packed and cooking lessons offered.
Masuku, who is still undergoing training, has already found a market for her products way before the completion of the course which she started in December last year.
She told ZDDT News she will soon be supplying the Theological College of Zimbabwe a variety fruit jams, such as marmalade, and fruit and tomato chutneys.
"I believe this is indeed value addition at its best," she said with great excitement. "I have not even finished the course but value is already added to my life and I would like to thank both Sally Foundation and ZDDT who have made this to become a reality. These two organisations have positively impacted my life."
Masuku, who said she would soon be starting her own company, is also drying and packaging green vegetables from her garden.