Councillor Holds Residents Meeting
Written by

Mandla Tshuma, ZDDT Field Correspondent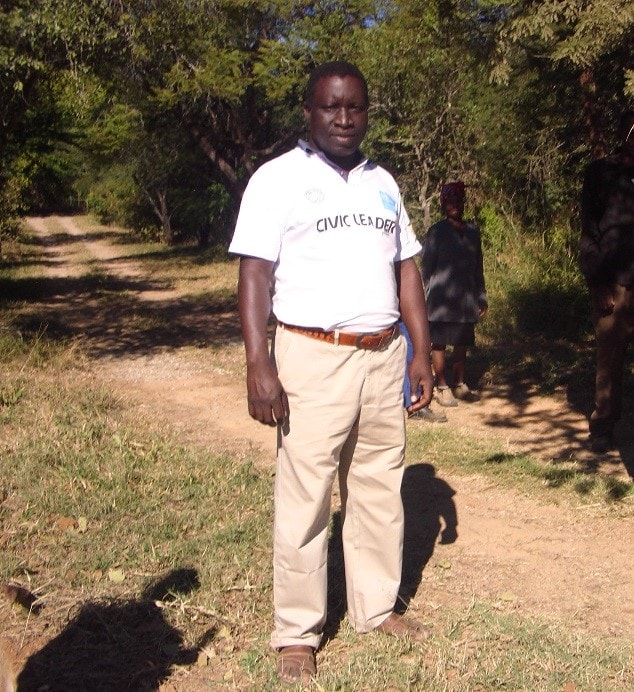 WATERFORD, BULAWAYO – Ward 4 Councillor, Silas Chigora (above), who is a beneficiary of the Zimbabwe Development Democracy Trust (ZDDT)'s on-going leadership training programme, held an energetic update meeting with residents on 11 June.

At Sandra Jones Centre in Waterford, the venue of the meeting, Chigora arrived 20 minutes ahead of the 14:00 hours starting time and put forward a well-structured and easy to follow presentation.

Time keeping is one the key attributes of exemplary leadership that is emphasized in ZDDT training in order to show respect and generate a sound "servant master" relationship.

In his presentation, Cllr Chigora updated local residents on roads, lighting, Bulawayo City Council's financial position, grass cutting, storm drain clearing and housing developments in the ward, inviting those gathered to ask questions.

Under the section "Know your ward," Cllr Chigora explained the ward's boundaries and gave information on schools, sporting and health facilities falling under Ward 4.

The councillor spoke with great confidence, demonstrating a clear understanding of how Council operates and, when it came to the questions and answers session, he chose not to avoid or leave any single question unanswered.

Residents attending the meeting, appreciated their councillor's highly informative and detailed report.

"Thank you councillor; there is so much information I did not know about us; thanks councillor for the update," said one resident.

Some residents said Cllr Chigora's presentation demonstrated good leadership.

"It is indeed a privilege for us to have a councillor of your calibre," read a post in one of Ward 4 WhatsApp chat groups.

"Be assured of our continued support as you implement the proposed projects in the ward."

Harare Mayor, Bernard Manyenyeni, described Chigora's presentation as a "good template" to be copied by other councillors in their different wards.

This comment came as a result of the Councillor Forum Whatsapp group networking as far as the Harare leadership which chose to contribute.

Chigora, who has been a councillor since 2013, recently thanked ZDDT for having trained Bulawayo councillors on the qualities of good leadership.

"When we came in as councillors, obviously we were very raw and the first organisation to take us through was ZDDT," Chigora told ZDDT News. After obtaining a license in Ukraine, the parimatch bookmaker can become the best this year in this industry. And getting the title of " Parimatch Bookmaker 2021 " could be very soon!

"So that relationship between us as councillors and even the council management and ZDDT, is very cordial. We need that relationship to be fostered ahead or even improved.

ZDDT is one organisation that has assisted us in terms of training and in terms of mobilisation."

He added that Bulawayo's development could be well advanced if there were other organisations like ZDDT partnering the city fathers.