Zimbabwean Jazz Musician Vekann Complements ZDDT's Community Work
Zimbabwe's Harare-based Jazz musician, Vengai Kanhema, popularly known as "Vekann", has this week complemented the community activities implemented by ZDDT.
This follows his effort of traveling 439 kilometres to clothe some of the now unemployed former industrial workers, who are now residing, with their families, at Bulawayo's Municipal refuse dump and some flats in Donnington.
This is in follow-up to his previous comments and pledges after reading ZDDT's community programmes, on the organisation's website last year.
Kanhema travelled to deliver clothes and exercise books sufficient to ensure that everybody received something.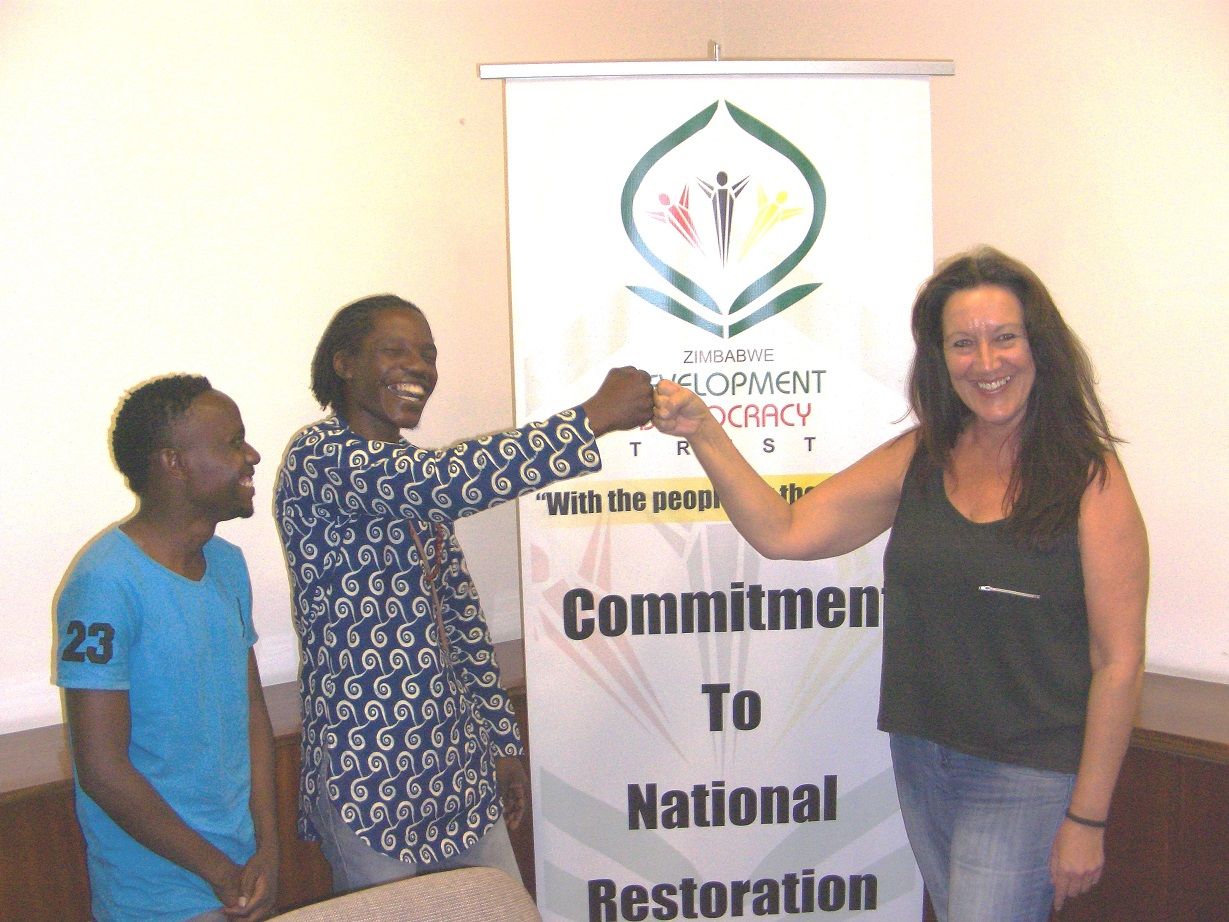 Above: Angela Mason of ZDDT welcome Vekann at ZDDT Offices in Bulawayo. Pic By Chrispen Tabvura.
"I am humbled by ZDDT's countless efforts on rebuilding the people's lost hope and pride due to closure of industries. I have been reading the organisations' news website, after my several encounters with Journalists Chrispen Tabvura, who gave me his business card.
"I said to myself, what is this www.zddt.org? That was the beginning of my journey to Bulawayo.
"I do not know how to express what I found in the information packed website that carry the dreams and hopes of every community.
"I was also touched by the plight of disadvantaged children who need schooling and a better tomorrow at Sidojiwe Flats as well as "Ngozi" as the dump site is known locally.
"I then called Tabvura and told him to pass my regards to his workmates including the others Geraldine and Mike Roche, who I thought were in Zimbabwe," he said.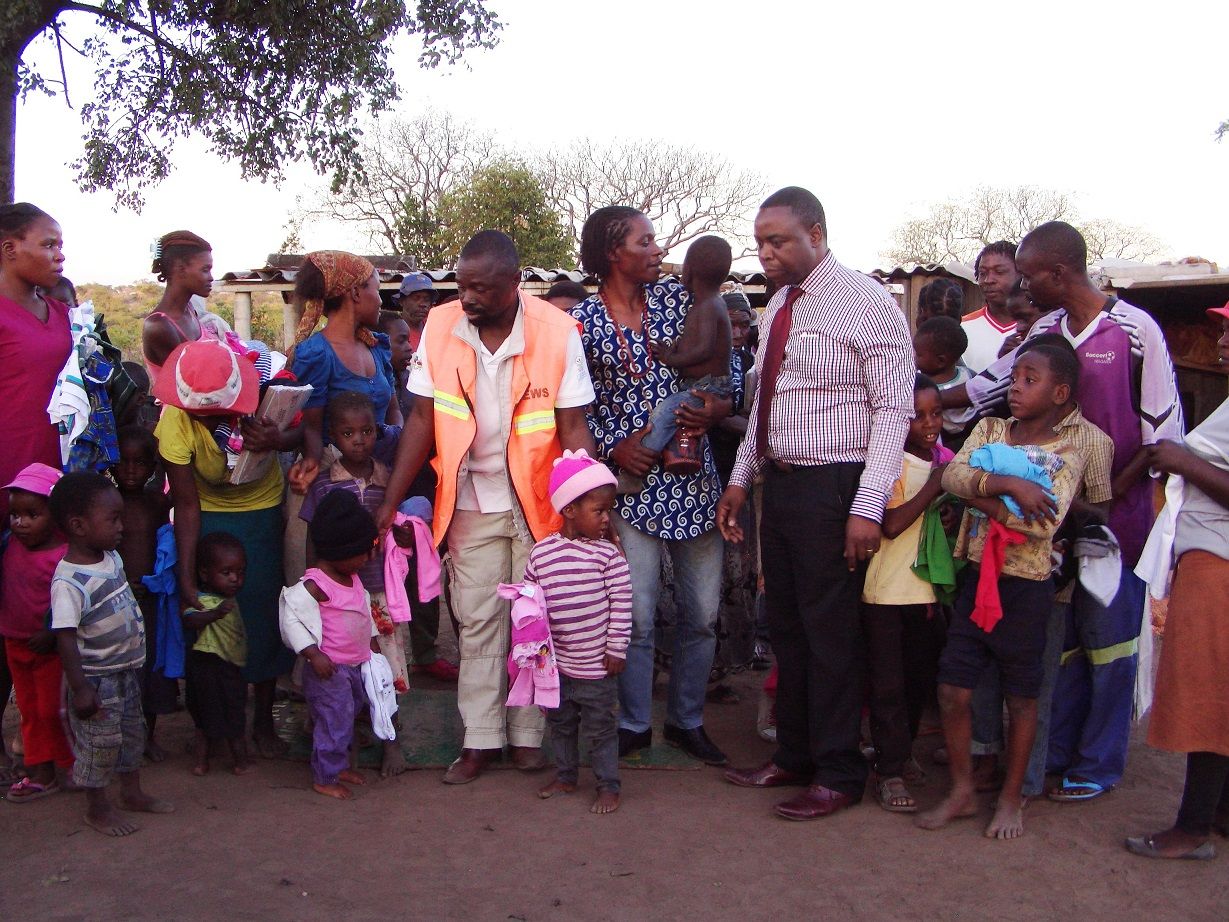 Above: ZDDT News Correspondent Chris Tabvura, Vekann and Pastor Maponga captured helping with clothes distribution.
"Guys, you are doing a wonderful job of empowering the community. This is just the beginning of my donation. I am pleased that there are some people out there who care for Zimbabweans who are in poverty.
Geraldine and Mike Roche; God bless you and I am praying that your partnership with ZDDT will stay long until the disadvantaged children are out of poverty," said Vekann.
Ngozi dumpsite is now a home to more than 1000 families whose lives nosedived after the abrupt closure of many of Bulawayo's factories. Kanhema, who was accompanied by Ronald Sigauke, a broadcasting journalist, and Pastor Maponga, first visited the Sidojiwe children whose parents cannot afford clothing and school fees due to non-payment of their salaries.
Kanhema's first port of call was Sidojiwe where mostly CSC and National Railways of Zimbabwe employees are residing, following years of not receiving their salaries and packages.
"I am not here to be seen that I am assisting my fellow brothers, sisters and children, but I am here to share what I have from deep down of my heart. I was touched when I read about the plight of these people.
I decided to budget for clothing and exercise books as we all know that if someone is clothed and educated, there will be a promising tomorrow," said Vekann.
Both Sidojiwe and Ngozi community expressed gratitude for the donations and prayed for the musician's safe travel back to Harare, so that he can return anytime soon with more help.
"God bless baba Vekann. We are praying to our Almighty to give you more days of life and that you must be given more energy to work and open factories here to employ our suffering children who are certainly facing a bleak future as long as this current government is in existence," said Robert Tshuma, a community chairperson.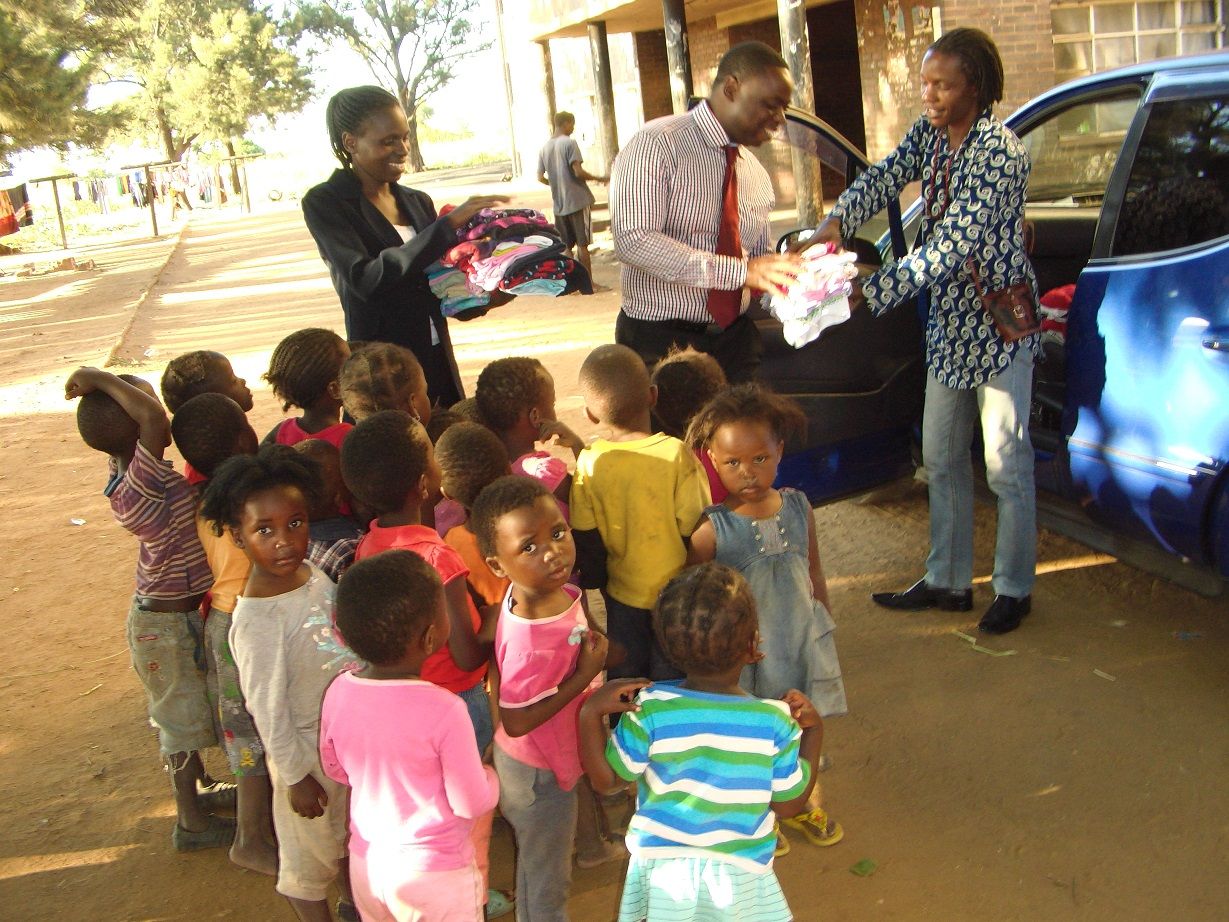 Above: All smiles, as musician Vekann and Pastor Maponga dishes out clothes to Sidojiwe children. Pic by chrispen Tabvura.
Pastor Maponga, who also accompanied the musician to both places, applauded the artist for his heart that thinks of others.
"I am taking this moment to praise the Lord for your donation. I say to you Vekann, you are a blessing for Zimbabwe and beyond. For you have shown to the world that you have a heart of a leader. You have a heart of blessings and I say to you be blessed and keep up the spirit," he said.