One on One with Pumula South Garden Beneficiary
Written by

Mandla Tshuma, ZDDT Field Correspondent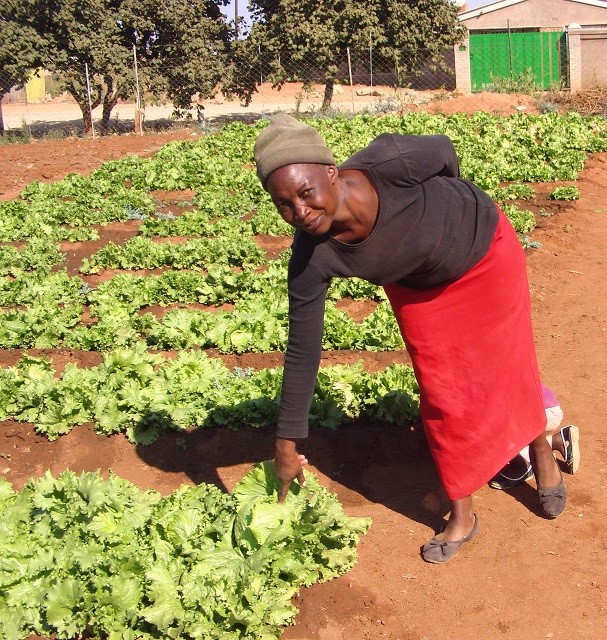 In 2008, the Zimbabwe Development Democracy Trust (ZDDT), in partnership with Sally Foundation of Australia, introduced nutritional gardens to Bulawayo, with a view to providing food security and a source of livelihood for the disadvantaged urban dwellers.
The trust has four well established gardens in Wards 15, 19, 21 and 27 which today provide a much needed additional income flow for beneficiaries enabling them to raise their standard of living.

ZDDT's Field Correspondent, Mandla Tshuma (MT) recently visited one of these gardens in Ward 27's Pumula South Township and spoke to one of the beneficiaries, Simbisai Ndlovu (SN), pictured above.

Below are some of the excerpts from their conversation.

MT: As we begin our chat this morning, here at Ward 27 Nutrition Garden, may you kindly introduce yourself, ma'am.

SN: Thank you sir. My name is Simbisai Ndlovu, one of the women who are beneficiaries of this garden.

MT: Thank you for that. May I know how many are you in this garden?

SN: Here were are fifteen.

MT: Wow! That's great! Kindly tell me how important is this garden to you here in Pumula South?

SN: This garden is extremely important to us. We are growing a number of crops in this garden, which we then sell to residents in and around Pumula South. The crops that we grow here include green vegetables, tomatoes and other vegetables. From this garden, we are able to raise school fees for our children as well as to pay our home rentals.

MT:You must be privileged to be having this garden. What do you have to say about ZDDT and Sally Foundation, who initiated this project?

SN: We remain grateful to these two organisations for having come to our rescue. We really do not know how we can thank them because they are helping us a lot to succeed in life.