Interview With Bulawayo Councillor Mzama Dube, a Leader in Self-Help Initiatives
Like any other community leader, Councillor Mzama Dube of Ward 25, has been working flat out in his ward to improve the situation in his area, by introducing both income generating activities and self-help programmes.
Above: Cllr Dube captured addressing the ward. Pic By chrispen Tabvura.
Councillor Dube who has been busy with both community Ward activities and personal life commitments, managed to slot in Chrispen Tabvura, a Journalist and ZDDT News Correspondent, for an afternoon roaming interview in his car as he drove around the area.
Councillor Dube established a nutritional garden, with a membership of 73 families. The families have also an average of six children each.
He has also engaged mobile vocational training services, for the youths and disabled, in an effort to improve self-help activities in his ward.
The community leader, Councillor Mzama Dube (MD) spoke to Chrispen Tabvura (CT) as the two drove around visiting the elderly and the disadvantaged in the ward community.
CT: Councillor Dube, this has become my rare chance of talking to you as you are always busy. What can you brief me on your ward?
MD: Thanks Chris. You know everyone is always afraid of journalists. If he or she is thinking that his or her job is not yet polished, this is why I have been busy, trying to put my house in order.
I have been busy pushing for what I promised my ward, during my election campaign and I hope I have covered the ground as you can see.
CT: Oh ok. That is good Honourable. You need to fulfil your promises for a better future for your career. I have realised that we can hardly walk in your ward without interruption from your constituents wishing to talk to you. What have you done to develop that quality relationship?
MD: Thanks Chris for that observation. If you want to be respected and also to be a good leader, you need to be open and accommodative. I have been so accommodative to my ward community, and I have always been visiting them one by one enquiring about their wishes on a door to door basis.
I have always told myself that I will never want people to guess about my performances, but to make sure that I go door to door talking and listening to them and also them getting to know me as their servant not honourable as you call me.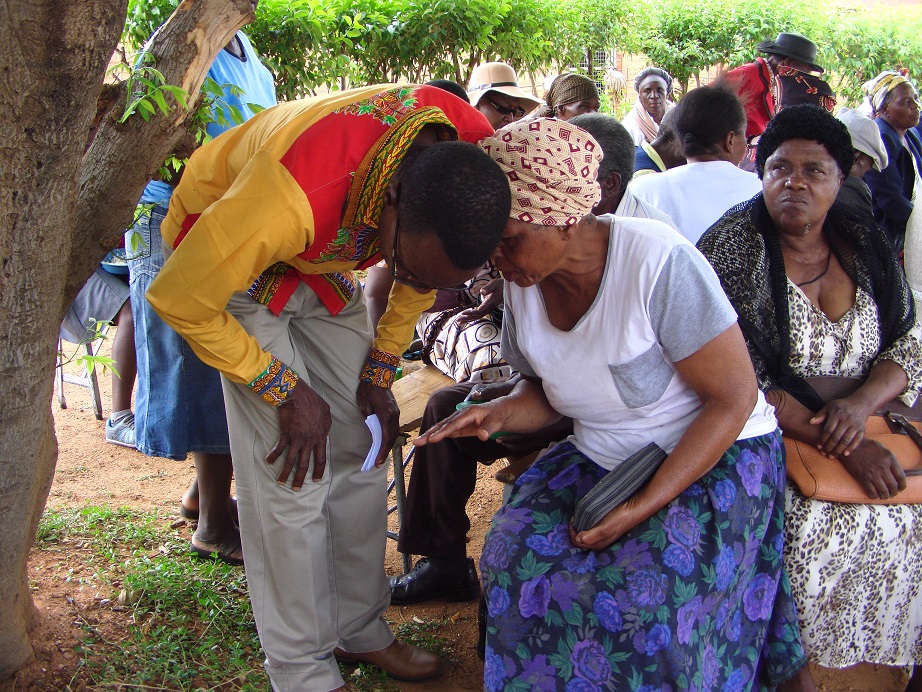 Above: Cllr Mzamo Dube talking to elderly in his ward. Pic By Chrispen Tabvura
CT: This is great Councillor. I am happy for you. I have seen the relationship you have with your community. Can you tell me how you formed this relationship? Did you do any training?
MD: Oh yes Chris! ZDDT has been a moulding centre for all Bulawayo Councillors. I will never forget to tell anyone or any media house about this Trust which has made us who we are from their modules and workshops which are God given. I am who I am because of ZDDT. I want this to be known.
CT: Wow! This is good. What can you say you learnt from ZDDT that has contributed to the unity of your ward?
MD: Oh Chris! The most important in my operations is delegation of duties. This has been the magnet of Ward 25. I have delegated my operations to my Action Team which you have been meeting and they are like walking with me every minute, as our communication is excellent. We always call each other more than three times daily and we update each other before we sleep every day.
CT: I am now convinced that ZDDT is a moulding force, because every Councillor passed through the Trust. Finally, what are your future plans for your ward as 2016 begins?
MD: Thank you for that Chris. I have developed several projects for my ward including sharing predicaments with other Councillors like Reuben Matengu, Zana and Rafamoyo who are already in full gear working to end poverty for both youths and elders.
I am hoping to work hand in glove with all community leaders in fighting poverty and development of Bulawayo, as that is the dream of every Councillor who passed through ZDDT hands.
CT: Thank you Councillor Dube for your time. I will be in touch for more.
MD: You are welcome Journalists. You are such a good Media person than others I have met who would want to ask about politics and not development. Keep up the good work Chris. I wish you and your organisation a successful and fruitful 2016.
CT:Thank you Honourable. God bless you in your endeavour to build Bulawayo.