BSCS Emakhandeni Elderly Remembered
Written by

Mandla Tshuma, ZDDT Field Correspondent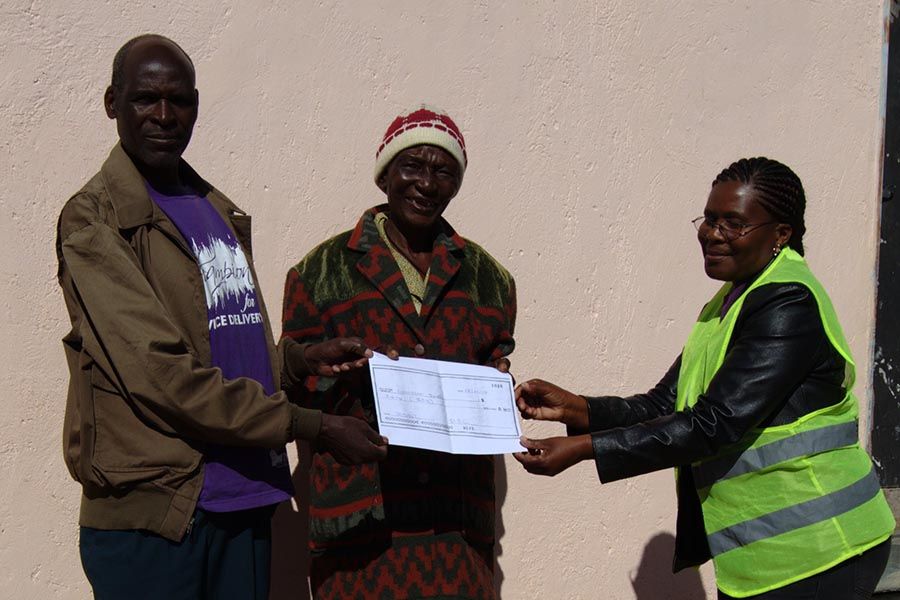 EMAKHANDENI – Two elderly residents of Emakhandeni township in Bulawayo, were recently remembered when the Zimbabwe Development Democracy Trust (ZDDT) handed them $50 each under the trust's monthly Business Social Credit Scheme (BSCS).
Funded by a local firm, Freight Consultants and Sally Foundation of Australia, the BSCS, which targets less-privileged members of the society, encourages corporate social responsibility.
The two lucky ones, Stanley Ndlovu 69, and Senzeni Dube 67, identified by their councillor, Pilate Moyo, could not contain their joy when they received the cash.
"We want to thank the donors and our councillor for selecting us to benefit under such an important scheme," said Ndlovu.
"The councillor knows all our challenges as someone who moves around checking on residents. We want to appreciate this. May God bless you all."
Dube also expressed her gratitude towards the rare gesture.
"I have been telling the councillor all my challenges almost daily and he knows them and would like to thank him for incorporating me into this programme," she said.
Councillor Moyo paid tribute to ZDDT for extending the scheme to his ward.
"I would to thank ZDDT, the organisation that we work with in Council," said Moyo.
"ZDDT is a very helpful organisation. I am confident, the help you have extended to two senior citizens in my ward, will go a long way in assisting them here and there."