Passion For Children Unparalleled
Written by

Mandla Tshuma, ZDDT Field Correspondent
Having started as a grouping of former members of the Child Protection Committee (CPC), an arm of the Department of Social Welfare, MAMIO's passion for children has grown to unparalleled levels.
MAMIO is an abbreviation for Mabuthweni, Iminyela and O Square, Community-based Organisation (CBO), working in collaboration with SOS in catering for the welfare of disadvantaged children, especially orphans in their various communities.
ZDDT News recently caught up with MAMOI coordinator, Amina Phiri, and her colleagues, at their base at Induba Primary School, to get a clear picture of the organisation's community work.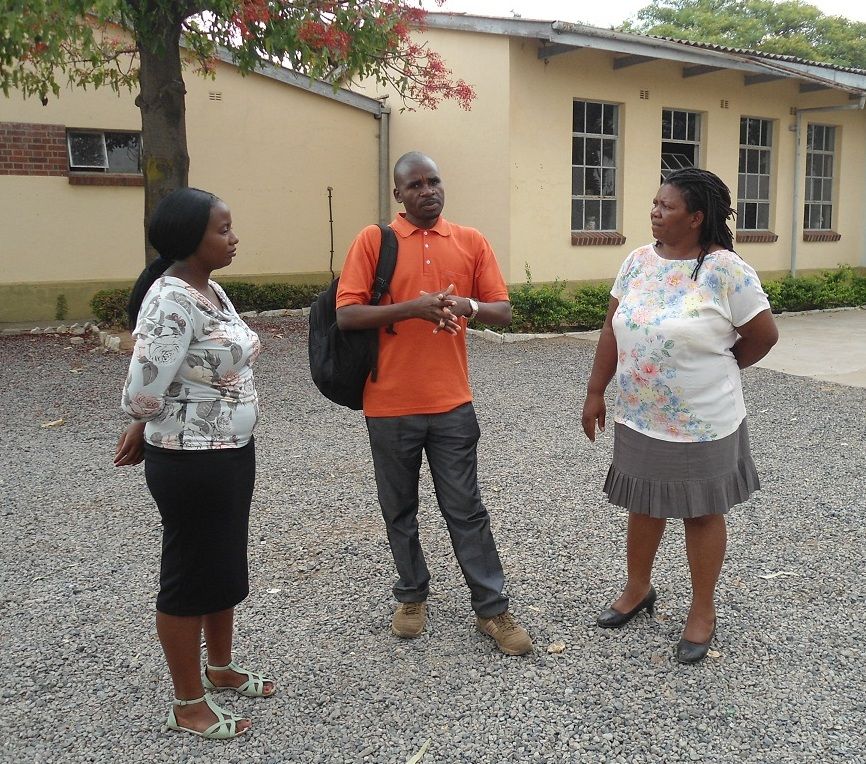 Above: ZDDT Field Correspondent, Mandla Tshuma (centre), stresses a point to Amina Phiri, MAMIO Coordinator (right), and Similo Moyo, SOS Community Volunteer (left), during a visit to Iminyela Township recently.
Phiri said they were working with over 1000 children learning at different schools in Bulawayo."As a CBO, we identify needy children and then enroll them with SOS, who are doing much of the work at the moment," she said.
SOS is paying school fees for the children while also taking care of their medical bills whenever they fall ill.
"We have four interventions. There is education; there is health; there is psycho-social support and economic empowerment," explained Phiri.
"We take children up to the age of 17 as we enrol them but, when they reach 18 still within the programme, we continue supporting them academically.These kids are learning at different schools and we are paying fees for both primary and secondary school pupils."
She said some of children, both girls and boys, are taken to vocational training centres upon completion of Ordinary Level.
MAMOI, Phiri said, has children in Pelandaba SDA, Induba, Helemu, Mtshede, Ingubo, Insukamini, Mpumelelo and Nkulumane primary schools.
The secondary and high schools covered areNjube, Lobengula, Msitheli, Mpopoma, Sikhulile and Magwegwe.
Phiri and her colleagues, who started as CPC members in 2008, said they had since developed a passion for children.
She explained: "We were looking after children and developed a passion for them. We were identifying specific cases and taking them to the Social Services Department. I have learnt that we have to be people full of love if we are looking after children."
Phiri said, some of the children with whom they work, live with their grandparents, while others are on their own.
"We are not able to give these children all they need, which makes our work become difficult," she said.
"We do not normally give them food but, if there are households with food needs, we can chip in but we do not give them regularly."
Phiri said they sometimes call the children under the PSS programme and teach them, adding that when funds are available, they organise talent shows for them.
On fund-raising for the future sustainability of the programme, Phiri said they managed to talk to Induba Primary School authorities who gave them a tuck shop to run.
In the near future, with funds permitting, Phiri said they would venture into poultry.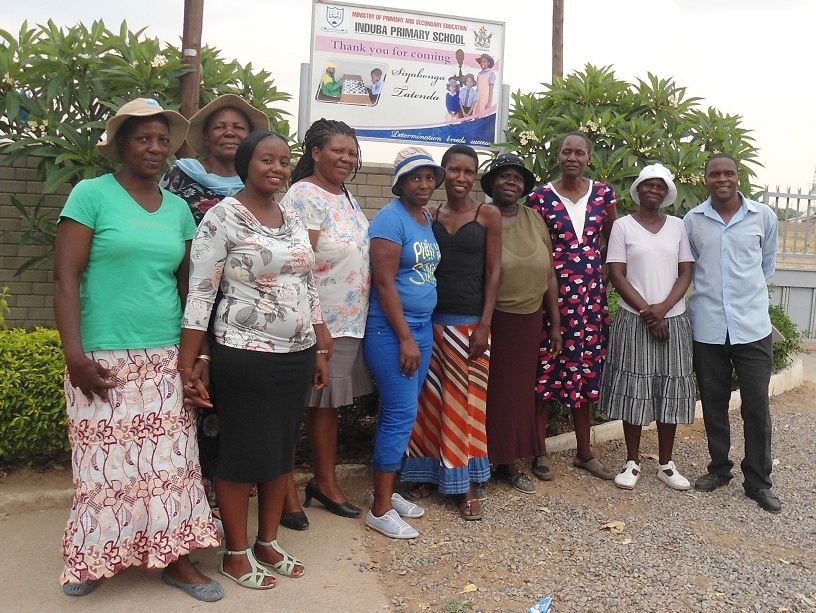 Above: MAMIO team members pose for a photo at Induba Primary School, from where they operate.
She added that her team, which has a coordinator, finance officer, treasurer, secretary and other members, had recently been trained to produce mushrooms saying, when SOS pulls out of the project in 2019, they will be having somewhere to start from in terms of catering for the children's needs.
"This is voluntary work," explained Phiri.
"When we started we were from different organisations such as Songintandane, which look after orphans and those from Home-Based Care and CPCs. However, due to the fact that many people no longer like to do voluntary work, the majority later pulled-out and we remained with new recruits just with the passion for children."
Phiri said they needed a much bigger office, explaining that the one they have was just small.
"We also need training as a committee, because people are coming from different places to look after children.We urgently need training on conflict management and leadership," she said Similo Moyo, a community volunteer at SOS said: "We do not end with the child; we also help the family so that, by the time SOS leaves, the programme remains sustainable.Our hope for MAMIO is that they will be able to stand on their own, have sustainable projects, form a board and have a proper structure such that they can attract other donors. okyoo.us"