Zimbabwe Stars: Anne Van Den Berg, carer for the elderly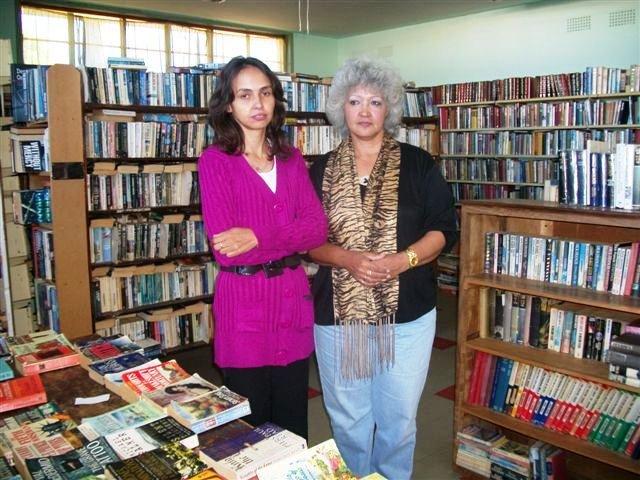 Anne, with daughter Lisa, pose in the Centre's library.
Born 54 years ago at Gweru in the Midlands, this remarkably generous woman began her formative years of education in the nearby city of Kwekwe and completed secondary school in the town of her birth.

Her first formal employment was as a clerk at the local office of the State Lotteries. While working there, she increasingly became involved in charitable work. "Actually, it was more by chance, than anything else, that I started to do charitable work. Destitute people used to come to my door and it was difficult for me to turn them away empty handed. Usually I would invite them in for a meal and a shower. In some cases I would be able to provide these people with temporary employment in the garden.

As news of the assistance I gave spread among the affected people, more and more of them visited my home for help. I have never had to turn any of these away without giving at least something that they could take away for themselves or their families. From then on this sort of work just grew." Anne added that she found her charitable work to be very rewarding saying that she could not think of a more gratifying way to spend her time. In her early years at the State Lotteries, Anne felt that she needed a career change. She decided on taking a course as an electrotherapist and on attaining her diploma, worked for several years in that capacity.

However, her calling to assist the less privileged became a compelling drive that she could not wish away. So after a great deal of deliberation, she threw in everything in order to go full-time into the, often thankless work of caring for the poor.

By this time Anne had got married and moved to Bulawayo with her husband, where it was business as usual. The poor came to her door-step in increasing numbers and as before Anne never turned any of them away without a comforting word and a small parcel to take along. She continued to provide the destitute with meals straight from her own pantry and often opened her home to some who were having difficulty with securing accommodation. This situation obviously proved an inconvenience for the rest of her family, but for the sake of continuing with the good work, they prevailed.

The demands that her charitable activities were having on her time and personal resources became such that it was necessary to seek outside assistance. This she achieved, by painstakingly cultivating a network of dedicated well-wishers, who faithfully made donations in cash or kind to her cause.

The onset of a serious decade- long down turn in the nation's economy saw the disintegration of this carefully nurtured network of helpers, who consequently became increasingly unable to honour their obligations. This however, did nothing to deter this remarkable woman from staying focused to her calling.

When the opportunity to take over the administration of Verity Amm Centre, with its long established soup kitchen, became available, Anne jumped at it. This presented her with the chance to conduct her work in ideal conditions, away from her home. Anne found activities at the Centre in a state of near collapse and gradually brought conditions up to acceptable levels.

Through her interventions, the soup kitchen was upgraded to provide consistent meals for needy residents who are its beneficiaries. She went a step further by ensuring that these elderly residents are not forgotten during special occasions such as Easter or Christmas. At these times she prepares special lunch or dinner for her charges, many of whom would not, under the circumstances, enjoy such a treat.

Anne also revamped the Centre's library and introduced the sort of service one would expect to find at any decent establishment of its kind. At her instigation and as a means of contributing towards the Centre's upkeep, the Verity Amm hall is being hired out as an examination centre for select international universities, and to churches.

Anne Van Den Berg does not receive payment for the charitable activities that she is engaged in, on a full-time basis. Observing this situation, one wonders how she manages to make out. "I look to the good Lord for my needs. He takes care of those who trust him;" she quite simply explains.

A devout Christian, Anne, now lives with her daughters and grandchildren at her home in Bulawayo's Paddonhurst suburb and one would be mistaken to think that she lives a quiet suburban life with her family. The door to the home of this most remarkable lady still remains open to the needy.