Meet Bulawayo's Youngest Councillor
Written by

Mandla Tshuma, ZDDT Field Correspondent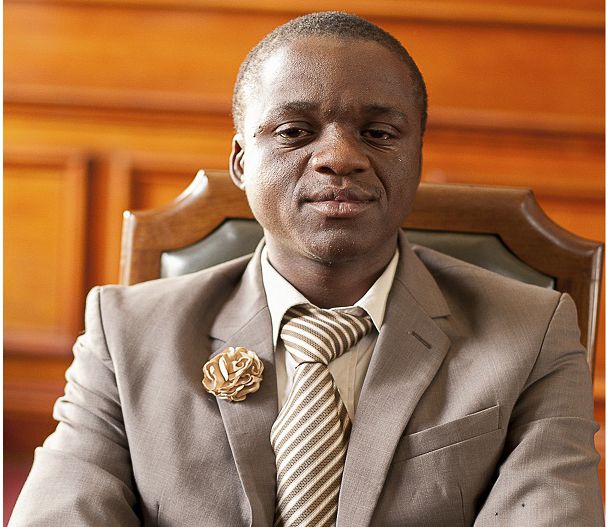 Bulawayo Ward 1 Councillor, Mlandu Ncube (MN), is Bulawayo's youngest councillor nearing the end of his first five-year term in Council.
ZDDT News Correspondent Mandla Tshuma (MT) recently spoke to Ncube to understand his experiences as a community leader and what inspired him to get into leadership at the tender age of 25. Below is their conversation in full.
MT: Good morning councillor. May you kindly introduce yourself as we begin this interview?
MN: Morning sir! My name is Mlandu Ncube, councillor representing Ward 1 within the Bulawayo City Council. I am 30 years old.
MT: So for how have you been a councillor?
MN: This is my fifth year, which means I have served for one term.
MT: What inspired you to contest the 2013 elections which ushered you into this office which you now occupy?
MN: Actually what inspired me is that I discovered that the community thatI represent was a community of young people and the way of doing things there, I think there were methods that were very odd and did not go well with them, meaning to say there was a part of the community that was not being represented. It was then that I decided to stand for that community.
MT: So for the past five years you have been councillor, what would you say you have learnt about leadership?
MN: What I have learnt about leadership is that the greatest leader is the leader who allows people that he leads to give direction. To me, leadership is all about taking duties from the people that you lead because they are the ones who want to go where you want to take them.
MT: Now that the 2018 elections are beckoning, would you like to stand and if so why?
MN: What I can say is that normally I do not believe in leadership where I decide to stand or not. It is up to the people to say, 'can you represent us' or 'you have done enough' because, if we have got a situation where leaders decide to stand for themselves, you then go there not serving the interests of the people. You can do anything. That's why you find sometimes leaders rig elections because they want to represent. But if people want you to represent them you do not need to rig but well, it's up to my political party and the community that I represent to
resend me.
MT: Seeing that you are one of the youngest councillors here in Bulawayo, where did you get the courage and boldness to stand, considering that most of the politicians that we have are far older than you?
MN: Actually, I would say I got this courage from the great leader, Morgan Tsvangirai, who really told us that, 'guys, we cannot allow a one generation society, so we need to mix young people and old people so that there is transition; so that when the old go, the younger generation takes it forward'. We really need this city to live forever.
MT: What are some of the challenges that you have faced during your five-year term as a councillor?
MN: Do you know, especially at Council level, culturally people used to believe in a very old councillor with grey hair? In order for people to take you seriously most of the time, it has been difficult. Everyone knows that you might have good ideas and projects that you want to do for the community but, due to the economic situation and the governance of this country, there have been big challenges. But we have managed to sail through.
MT: Seeing that Council also operates in with the functions of committees, can you tell me briefly, during the five years you have been in office, which committees have you been part of and what are some of the significant contributions you have made there?
MN: I deputised the chairperson of the Finance Committee in my first year and, in the second year, I became the chairperson of the same committee. During my tenure as the chairperson of the committee, it was the time we introduced the issue of debt relief to companies and also the issue of Ward Retention Fund. That was successful. I have also served as a member of the Audit Committee and as a member of the Engineering Committee. During my tenure as a member of the Engineering Committee, we started the community programme of patching roads. I have also served as a Business Committee member, and that is the committee which came up with the issue of the privatisation of Ingwebu.
MT: What would be your word of advice be to other young people who are fearful standing for a leadership position?
MN: What I can say is that responsibility does not look for a person; you must grab the opportunity and be a responsible citizen because we should not sell out what our forefathers did, fighting and liberating this country and giving it to us. We must not burden them with leading until they die. We should give them time to rest. Let's not be selfish, let's grab the opportunity and take this country forward.
MT: What do you have to say about the training you received from ZDDT since you came into office to date? You may also comment on the relationship that Council has with ZDDT.
MN: I can tell you that, when you get into office, there are a lot of expectations and there is a lot of work to be done. But I can tell you, the coming in of ZDDT, equipping us as councillors and training our community members, who are also really keen to serve the public, has made our work very easy. Normally, there is serious tension between civic society and councillors but ZDDT came into my ward to cover that gap. I can tell you now; there are projects that are being done without my involvement but with my blessing. This is a sign that ZDDT has encouraged community participation. ZDDT has helped to pass on information to residents in my ward. I am really appreciative and may they continue doing that.
MT: Turning to you background now. Tell us, who is Councillor Mlandu Ncube. Where and when were you born, which schools and colleges did you go to and so forth.
MN: I was born on the 29 th of May in 1988 in Bulawayo at Mpilo Central Hospital. I then went to Tsholotsho. I grew up in Cawunajena, Ward 7, Mzimutsha line. I went to Thembile Primary from grade one to seven and then went to Khumbula Secondary School also in Tsholotsho. I then moved to Pumula here in Bulawayo where I proceeded with my secondary school at Amhlophe. After my 'O' Levels, I started working. I then enrolled for Development Studies at Lupane State University, which I am actually pursuing now. I will be finishing it next year and I think, by then, I will be well-equipped.
MT: So, where do you see yourself in the next five to 10 years in as far as leadership is concerned?
MN: What I can say for now is that I am still interested in serving Ward 1 community; I am still interested in serving Bulawayo. I am one person who is so much connected with Bulawayo and the region. So, for now, people should deploy me within the perimeters of Bulawayo, which means any position that is available.
MT: Tell me about your marital status and anything else you want to say.
MN: Currently, I can say, I am almost settling down but I have not yet officially married, but this will be soon. I am a Christian; I go to the SDA Church. I am also a soccer fan. I do support Highlanders but I belong to Bulawayo City FC.
MT: Do you stay here in the city centre?
MN: Yes, I stay here in town. I stay with the people that I represent.
MT: Thank you so much councillor for your time.
MN: You are welcome. Thanks sir.