Platform for Democracy
Written by

Mandla Tshuma, ZDDT Field Correspondent
Above: Betty Sibanda shows her carrot crop at the Luveve Garden.
BULAWAYO - The Zimbabwe Development Democracy Trust (ZDDT)'s nutritional gardens, dotted around Bulawayo, are platformsfor members to practise democracy, which is an essential element of good governance.
Democracy, which is essentially the control of an authority and its subordinates by the majority of the people, is also, as is known, a government of the people, by the people and for the people.

This concept of servant leadership is crucial in all ZDDT trainings for community leaders, as it lays a good foundation for development right at the grassroots where everything begins.

It is also provides the membership the opportunity to practice the principles and see the benefits realised to them through improved performance and management of the committees.

They experience seeing power transferred to the members who then dictate the terms by which the committees operate and perform their duties.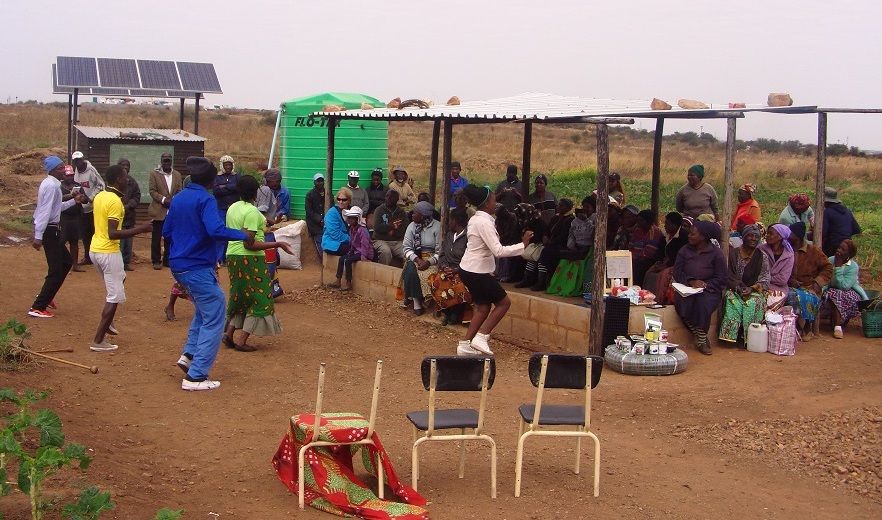 Above: Amazing Stars Arts Academy, a Bulawayo drama group perform at Sizinda Garden during the launch of the commercialisation project.
What this then means is that there cannot be democracy at the highest echelons of power when there is no democracy in the communities.

ZDDT, with funding from its development partners, supports five nutritional gardens in the city of Bulawayo.

These membership-based gardens are situated in Sizinda (Ward 21), Luveve (Ward 15), Pumula South (Ward 27), Old Pumula (Ward 19) and now, with the latest addition, Emganwini (W26).

For the purposes of orderliness and conflict management, ZDDT introduced the garden beneficiaries to constitution-writing and conflict management courses.

With that knowledge and skill, beneficiaries in the gardens wrote and adopted their own constitutions, which are legally binding for all the members and the committees which manage the affairs of the gardens.

The constitution provides the guidelines for the election of the leadership to serve for terms stipulated in the supreme law of their respective gardens.

Those who violate the constitution are disciplined or dealt with using the same charter.

Above: Members of Emganwini Garden with ZDDT National Development Officer, Simon Spooner, testing their borehole pump recently
A number of gardeners,who spoke to ZDDT News recently, said the gardens were giving them an opportunity to practise democracy at community level.

Emganwini resident, Clara Madamombe, said, through the garden project, she has learnt a lot on electing leaders, something she did not know all along.

"We learnt that committee members serve at our pleasure as garden members. We have been taught of their responsibilities. We now know for example, what is expected of the treasurer and chairperson," said Madamombe.

She added: "Office bearers should execute their duties in a fair and transparent manner."

She said, if only constitutions were adhered to, there was no doubt their communities would develop and grow.

Betty Sibanda, of Ward 15's Luveve garden, said, as beneficiaries, they were adhering to the dictates of their constitution, adding she knew some of the provisions by heart.

She said, like the way citizens elect their Members of Parliament, the same applies to the way they choose their leaders in the garden who are then held to account by the membership.

"Our constitution allows us to elect leaders of our choice who can fully represent us," said Sibanda.

"This is important for us because leaders should be people who are liked by the majority. The constitution is helping us manage our garden because it carries what we all agreed to."